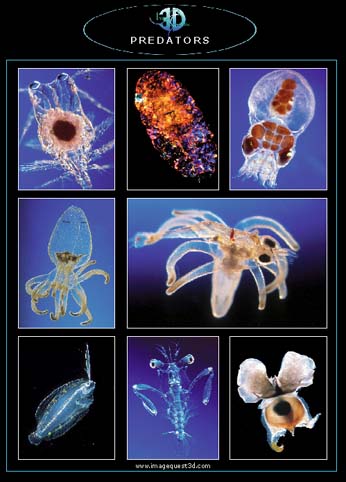 Note:Full text accompanies each panel. Only a portion of this, the introduction, is shown below.
It is no surprise to find that most jellyfish – the stingers we reluctantly meet when we least expect them – while swimming in the sea on holiday – are predators. Jellyfish are members of the plankton and most are large. It would be wrong though to think all predators are large. Some are microscopic, science-fiction characters with habits that leave vampires and valkyries in the shade. Some are "smash 'n' grab" specialists, others are "creep up 'n' swallow" specialists. All are effective and some are so numerous that they pose a real threat to commercial fisheries by wiping out whole populations of larval fish or larval shrimp.
The predators shown here are solitary wanderers. A few predacious species exist as great marauding swarms – sometimes occupying several square miles of ocean.