Blue Sea Star - Porpita porpita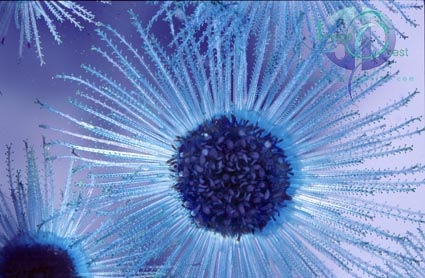 This floating hydroid colony, commonly referred to as the blue sea star or the blue button, belongs to the phylum Cnidaria, class Hydrozoa, family Velellidae. It is covered by a chitinous float and surrounded by a membrane that lies on the water surface film. The float is usually a golden brown and the mantle and hydroid colonies beneath it vary from a deep turquoise blue to lemon coloured. The surface drifting hydroid stage is the most well known - the 0.3 - 2.5 mm tall medusae that are liberated from this hydroid stage are rarely seen in the field.
This colony is viewed from beneath with the clouds and sky up above - idyllic, but deadly to the other microplankton that live in this two-dimensional ecosystem and that are careless enough to brush against those delicate tentacles.
Click here to view the 'Picture of the Week' archive.