Hydromedusan - Aequoria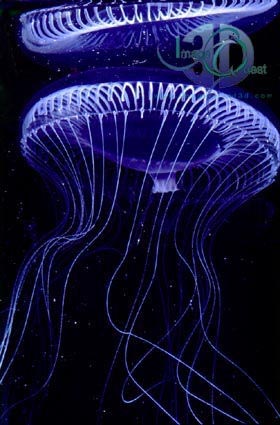 Aequoria, Class Hydrozoa, Order Leptomedusae, is a kind of hydromedusan. It is a common genus, found seasonally throughout the world's oceans. There are several species, varying in bell diameter from between 8cm to 25cm. Numerous tentacles stream out from beneath the transparent, gelatinous bell that is dissected by many radial canals. Although this animal appears colourless, in fact it is adept at bioluminescing, particularly around the margin of the bell (see above). Aequoria is a carnivore, predating soft-bodied organisms including other hydromedusae, ctenophores and polychaetes.
For more topical information regarding the bioluminescent properties of Aequoria and the application of its DNA into the first genetically modified monkey take a look at our news page.
Click here to view the 'Picture of the Week' archive.