Portuguese Man-O-War (Physalia physalis)
Photograph by Peter Parks
The Portuguese Man-O-War, Physalia physalis, sometimes called the "Blue Bottle" is capable of hospitalising humans. With tentacles up to 30 metres in length it is longer than a blue whale. Every millimetre of those tentacles packs a most poisonous punch.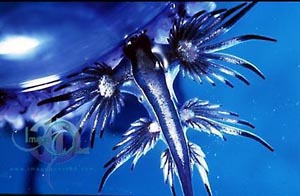 Blue Sea Slug (Glaucus atlanticus) eating
Portuguese Man-O-War (Physalia physalis)
Photograph by Peter Parks
Yet a small, four centimetre long, blind sea slug, that floats upside down on the surface of the sea, likes nothing more than a good meal of Physalia stinging tentacle. Incredibly, it can swallow the poisonous nematocysts without triggering them. It can then use them in its own defence by passing them into its finger like cerata from where they are ejected from terminal pores to inflict stings upon anyone or anything molesting the sea slug.
Portuguese Man-O-War (Physalia physalis) Discharged Nematocyst
Photograph by Peter Parks
This article was written by Peter Parks
If you have an article of general interest that you would like considered for the article of the month then we would love to hear from you. If you are also able to supply images then we can include those as well. You can email us at iq3d@imagequest3d.com